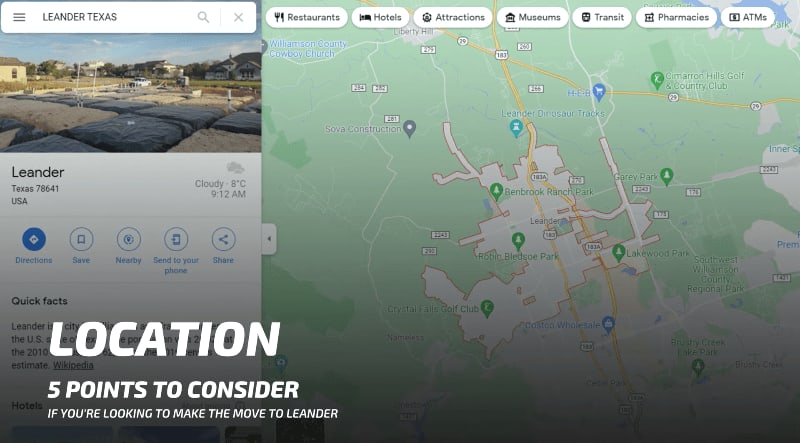 All right. Let's jump right into today's topic, which is all about Leander. To give you a quick backstory, the first house I ever sold when I got into real estate back in 2015 was in Leander. I had clients, who had a budget that was right around $200,000. They were looking at Pflugerville, and Round Rock, and at that time they still couldn't even find too much of what they wanted. So they started venturing out further and we ended up in Leander.
Now, even back at that point in Leander, there wasn't much out there. I lived in downtown Austin so for me, I was like–well this place is so far, there's nothing out here. I feel like I'm just driving on 183 forever, passing by field after field after field.
Well, fast forward to 2022, and we're talking about a place that just came out in an article; Opendoor named it as one of their hottest zip codes in the country when it comes to housing and landed the number two spot (the 78641 zip code in Leander). So it begs the question: Is Leander a good place for you if you're looking to make the move to Austin? So I'm going to give you a rundown. Below are five points that you'll want to consider if you're looking to make the move to Leander. A
#1: There is a Ton of Development Coming to Leander.
Leander Springs: So this is a 78-acre development. It's coming in basically right at 183 and 2243. This thing is going to be a mixture of retail, office space, hotels–all sorts of craziness is going on and Leander Springs. It is anchored by what they're calling the Crystal Lagoon, an amazing water amenity. It almost makes it feel like if you were looking at it without any context, you're just scrolling through the photos, you might think you're in Bora Bora or one of these crazy islands out in the middle of the ocean. Well, no, you are in the city of Leander. Leander Springs has been getting a lot of buzz for what's to come over there. This is a billion-dollar development coming to the city of Leander and probably going to bring a lot of great revenue when it comes to surrounding areas as well. So be on the lookout for that.

Northline: Northline is another huge development coming here to Leander. 1,600 acres of multifamily in the form of over 2,000 apartments, over 250 townhomes, and retail and mixed-use space. This year, in 2022, we're going to start seeing more of the vertical stages. So it's really going to start coming to life this year, and this is about a ten-year build-out. So it's probably not going to be complete till 2031. A lot of people are calling it the "Domain of Leander." So be on the lookout for some big commercial development which will attract more builders and probably other big corporations. Some of these big tech companies might see even more reason to plant roots up in the Leander area.
#2. Location:
So, Leander is about 30 to 35 minutes northwest of downtown Austin. Now, you've got to take that 30 to 35 minutes with a grain of salt, because I'm talking when there's zero traffic. In Austin, we know that doesn't happen too often.
So some of the biggest traffic areas you're going to see, if you are either going up to Leander or if you're coming from Leander commuting into downtown, 183, right where it connects to MoPac is where you usually see a lot of traffic. Sometimes standstill, where you're just kind of sitting waiting wondering, like, where's this traffic coming from for no apparent reason? And then it opens up. The other spot is closer to downtown, so pretty much just south of 45th Street. In the times of COVID when a lot of people work from home, it wasn't as bad, but we're starting to see traffic become a little bit worse and worse each day, especially with all the people moving here. So from a location standpoint, a lot of people love Leander because it's right along that 183 toll road, which yes, it's a toll road, however, provides easy access to places aside from downtown like the Domain; tons of shopping, tons of restaurants and a lot of people work there, so easy commute to the Domain. In addition, some of the northern tech companies that we're all aware of: Apple, Samsung, Dell, easy commutes to all of these–probably within 15 to 25 minutes, which if you're doing that a couple of times a week, you know if you're doing part-time work from home or even five days a week is not that bad.
#3. Tax Rates:
What you need to understand is that tax rates differ really, neighborhood to neighborhood. You cannot look at one general area or say, I want to see homes in round rock with low tax rates because it just varies so much.
So what affects the tax rates? Well, there are different taxing entities that affect those. Most of what you're going to see in Leander with all the new developments are either Municipal Utility Districts (MUDs) or Public Improvement Districts (PIDs) that are adding to that tax rate. They needed to build the infrastructure to create these neighborhoods, which in turn the taxpayers pay for. So what I'm going to give you is a couple of neighborhoods just to kind of, you know, get your bearings straight as far as if you're interested in these neighborhoods, you'll know going into it what the tax rate is going to be.
DeerBrooke ~ 2.5%,
Summerlin ~ 2.7% (right along 183 toward the northern part of Leander)
Larkspur ~ 2.9% (just east of 183)
Travisso ~ 2.9% (A very popular neighborhood in the hill country park of Leander)
Bryson ~ 2.9% (very popular master plan community)
So trying to find low tax rates compared to many areas of Austin which are closer to 2.2% can be challenging. So it's just something you have to be willing to pay if you're looking in these areas. If you're looking for an investment property strictly focused on rental numbers and cash flow, high tax rates eat into that cash flow.
So keep this in mind because it could affect your budget as well. If you're very monthly payment conscious, the tax rate will add to that. This is probably one of the biggest downfalls of Leander that I share with potential buyers. Now, it's not a deal breaker for a lot of people, but just get used to the higher tax rates in Leander.
#4. Leander ISD:
Leander ISD stretches a pretty wide area all the way to the northeast part of Leander, which pretty much borders Georgetown Independent School District. To the north, it'll be bordered by Liberty Hill School District, but one of the interesting parts is that since this district is so large, there are over 40 schools including elementary, middle, and high school, and it stretches down to areas closer to Lake Travis, bordering on Lake Travis Independent School District.
So if you live in Steiner Ranch, which is a popular neighborhood along Lake Travis, there are a few schools that are part of Leander ISD. So, for someone that's looking specifically in Leander to live, it's likely they're not going to be also looking at Steiner Ranch. Now that's not definitive, you might be open to both of those places, just generally speaking this is usually the case. So as you move to the northern part of Leander, that's where you start seeing some of those lower rated schools, maybe in the three to five out of ten range and this is all according to Greatschools.org and some of the higher rated schools are closer to that Steiner Ranch area or the central part, central, or south closer to Cedar Park in Leander. I encourage you to explore Greatschools.org and research the different school ratings.
#5. Growth Potential of Leander:
As I mentioned before, so many Big Tech companies being up north is one of the big draws for people moving that way. You know, the Domain is continuing to expand. Apple Campus is set to open up coming this year and is going to continue to expand. So that's what's drawn a lot of this growth.
Well, with the amount of land out there, we're going to continue seeing more new construction communities or builders out that way and more commercial development. Now a couple of neighborhoods that you might want to keep an eye on if you are looking to get new construction again (there are so many out there), but I'm just going to give you a few to maybe start poking around so you can get your bearings straight on where you might want to land.
I'll start with one of the higher-end neighborhoods:
Travisso: Again, a master plan community. You start going out west from 183 and you go through the hills and also you see this massive community, tons of homes, and it really does have a grand entrance when you go into Travisso and the homes in there really are beautiful. So if you're looking to get a little bit away from the hustle and bustle, then Travisso might be a spot for you.
A Couple of the other ones to keep your eye on if you're focused on new construction are:
Larkspur
Mockingbird Park
Carnero Ranch
Lariat (Liberty Hill)
Stonewall Ranch (Liberty Hill)
Orchard Ridge (Liberty Hill)
And there is your deep dive into Leander. Some of the good, some of the bad, all that you need to know when it comes to wondering if Leander is a good city for you to move to if you're making the move to Austin.
Now I always recommend doing your due diligence but getting in touch with an expert. Whether that's me, my team, and I would love to help you out, or if you have another agent you're working with. Make sure to get those questions answered upfront. Have them give you some guidance when it comes to the different resale, new construction options, and where might be a good place for you if you decide on Leander.